A full house with quiet chatter, clanking dishes and the wafting aroma of goodness yet to come. Invited by fellow foodie and toastmaster, Natalie Hill, this made for the perfect sunset to a long work week.

There was so much to choose from on the menu and I honestly didn't know where to begin. Wanting to try something new, but something I was confident I would eat proved to be a challenge. The visual menu had my mouth watering before I even had a sip of water. Natalie took the lead with the appetizers edamame and spring rolls. Try the iced Thai tea she suggested. I did not try the edamame but it wasn't for any particular reason, I just didn't. But the spring rolls tasted like they had been freshly rolled in the kitchen with veggies. Light, flaky and fresh. It was only 90 degrees that evening so a nice cool drink of iced Thai tea was a really good choice. We both sipped really slow so that we would have room for our dinner.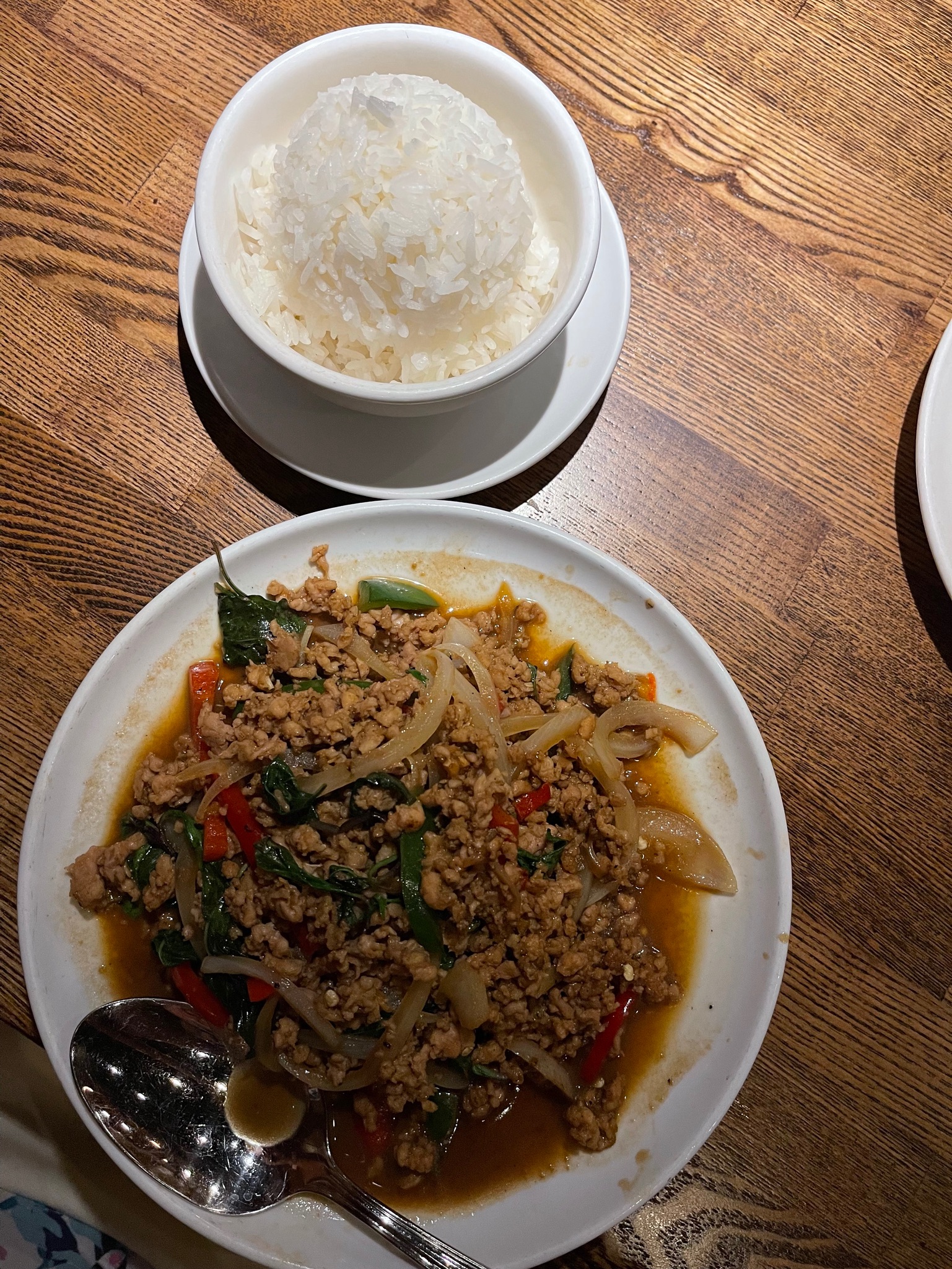 Pad Krapow with jasmine rice was my main dish and my mouth was ready. Spice levels were from 1-10 and I asked for mild spice, no number. That was a mistake. I should have taken a chance and at least picked 2. I love spicy food but I have learned the hard way that those spice levels are subjective. Even with no spice level I could still taste the pepper, garlic and other spices that made the dish a hit. Not only that, I could see the the ingredients. Now I must go back to have it again but with a little spice. Then maybe another visit after that so I can pick something else from that visual menu.
If there was anything that could have been better, I would say the wait time from ordering to serving. I didn't time it but it felt like a really long time. Could have been because they were close to capacity or because the aroma had me eager to get a taste. Possibly. And for these reasons I would not hold that against them. Besides, I was with really good company and the time was a great opportunity for us to catch up. Overall, this was a really good experience and we both left very satisfied and with lunch for the next day.
Do you have a Thai restaurant recommendation? Please share the name and location.
Satyra Tyler is a REALTOR® serving the greater Las Vegas area including Henderson and North Las Vegas. She has many years of progressive experience in her industry and she values learning and exploring new things and places. #STylerLasVegas #LiveLoveLasVegas